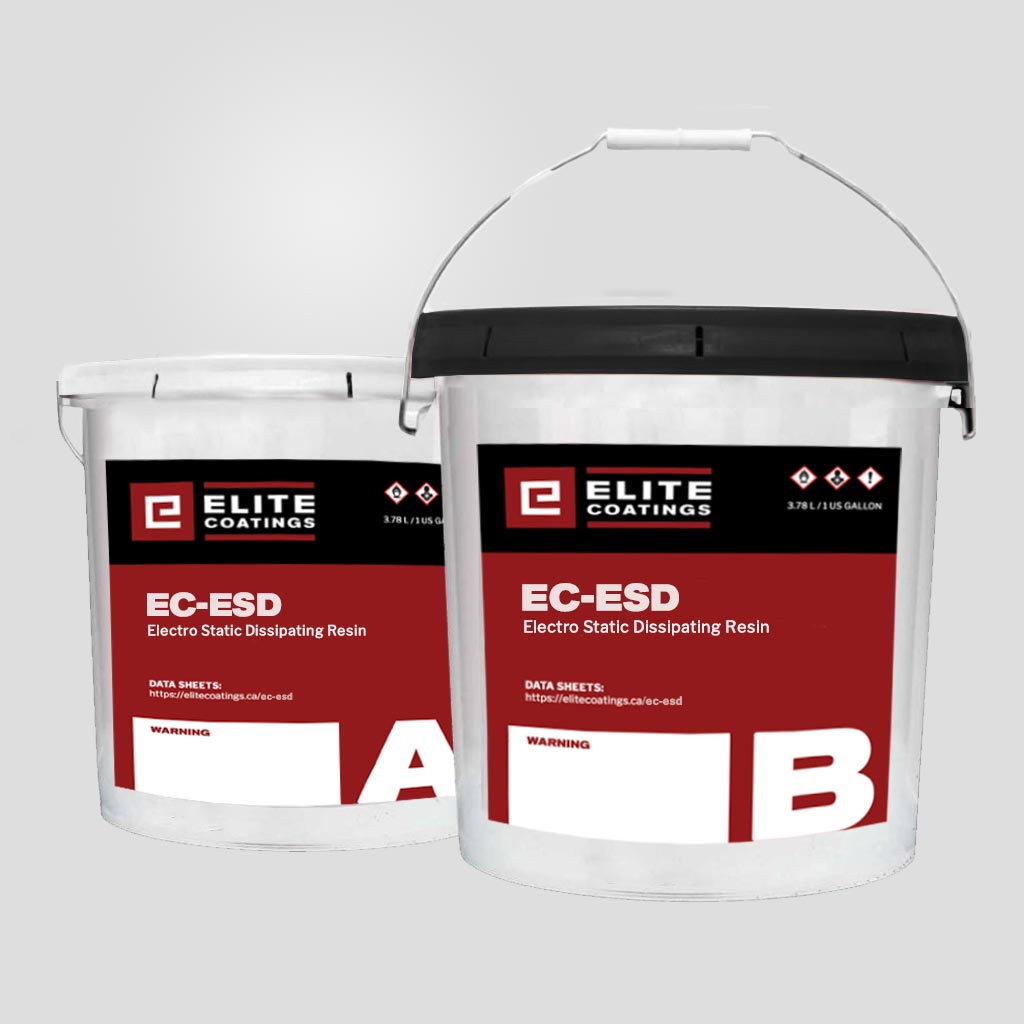 Electro Static Dissipating Resin
EC-ESD is a seamless and conductive two component epoxy coating. It provides a monochrome color with opaque and glossy, seamless, and slightly textured finish. EC-ESD meets the EOS/ESD Standards (2.5 x 104 to 1.0 x 106 ohms) for conductivity while providing excellent resistance to abrasion and chemicals. EC-ESD meets all kinds of requirements such as durability, performance as well as aesthetics. This seamless coating from Elite Coatings offers an unlimited choice of color. Seamless plinths are optional. This system has been approved by the Canadian Food Inspection Agency (CFIA).
This system is composed of: (possible options: superior)
1st coat of (ECE-CLEAR) 8 mils
2nd coat of (ECE-CLEAR) 8 mils (surface must be smooth and free of imperfections)
1st coat of (EC-ESD) 8 mils
Application of electrical grounds
Top coat of (EC-ESD) 12-16 mils
Optional coves can be created
$428.573.0 Kilogram Kit
Documents
Primary Applications
Electronic manufacturing, calibration and repair facilities
Explosion hazard areas
Military premises
Aerospace industries
Solvent production and storage areas
Warehouses for fireworks
Advantages
Impermeable and seamless
Conductive surface as per EOS/ESD Standards (2.5 x 104 to 1.0 x 106 ohms)
System conductivity integrated in the matrix of the coating
As resistant as the ECE-COATING system
Seamless coves can be shaped
Dense surface resistant to bacteria and moisture and easy to clean
Excellent adhesive properties, allowing for application on a wide variety of substrates
May apply several layers on itself with excellent adhesion
Properties @ 23°C (73°F) 50% R.H.
Bond Resistance (psi) ASTM D4541
Permeability (%) ASTM D570
> 350 (substrate ruptures)
0.3
Hardness (Shore D) ASTM D2240
Tensile Strength (psi) ASTM D638
85-90
5500
Compressive Strength ASTM D695
Elongation (%) ASTM D638
6800
6.7
Abrasion Resistance, ASTM D4060
(CS17/1000 cycles / 1000 g)
Viscosity @ 25°C (cps)
Part A
Part B
Mixture
0.10 gram
colors
1400-1600
200-400
1000-1200