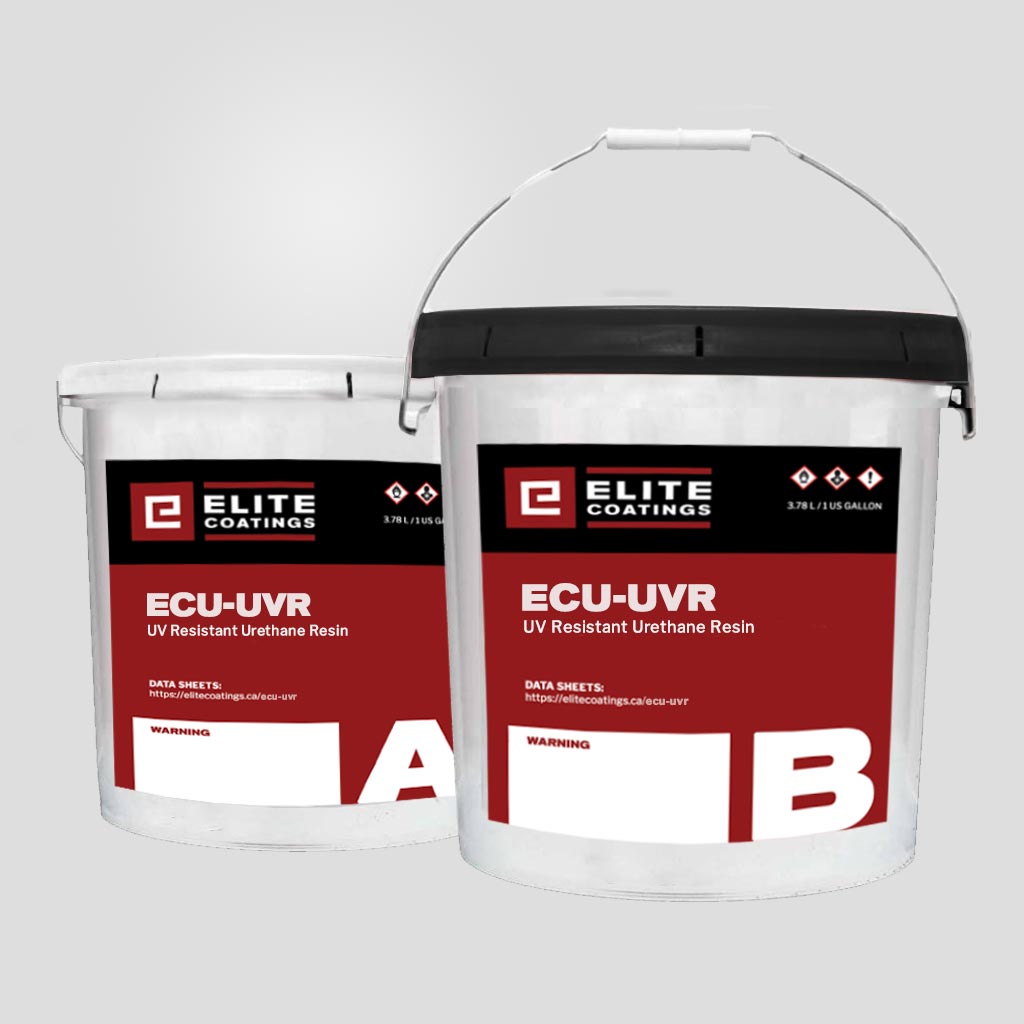 UV Resistant Urethane Resin
ECU-UVR is a two-component, 90% solids, VOC compliant, polyurethane coating that was developed as a topcoat. The product contains a UV protector. It provides a glossy finish with superior chemical resistance. It exhibits excellent physical properties. This system has been approved by the Canadian Food Inspection Agency (CFIA).
$600.003 Gallon Kit
Documents
Primary Applications
Marine protection for fiberglass, steel, concrete or wood
UV-stable top coat
Aircraft hangar floors
Low temperature equipment
Maintenance facilities
Industrial shop floors
Car washes or wash bays
Secondary containment
Cooling towers
Bridges
Wastewater treatment applications
Advantages
Long pot life (30 min to 40 min)
Displays fast cure times in thin film
Respectable odor
Superior chemical resistance (compared to standard epoxy)
Abrasion resistant
Non yellowing and good gloss retention
Dense surface resistant to bacteria and humidity
Excellent adhesive properties, allowing application on other firm and hard coating, as well as a good bond to the substrate
VOC complaint in Canada and the United States
Technical Data
Packaging litres / gal us
Color
11.34 / 3
56.7 / 15
Part A
Part B
Mixture
Recommended Thickness
Light Yellow
Clear
Light Yellow
Primer: ECE
8 mils / 200 ft² us gal
Shelf Life
Topcoat on solid color: ECU-UVR
6-8 mils / 200-265 ft² us gal
Topcoat on vinyl flakes: ECU-UVR
8 – 12mils / 133-200 ft² us gal
12 months in original unopened factory sealed containers. Keep away from extreme cold, heat, or moisture. Keep out of direct sunlight and away from fire hazards.
Mix Ratio by volume
A : B = 2 : 1
*Please note that the indicated mileage is calculated for flat surfaces. A porous or imperfect surface will require more material in order to cover the same mileage.
Pot life (150g)
Solids by weight %
Density (kg/litre)
25-30 minutes 25°C
90.6
Part A
Part B
Mixture
VOC (g/litre)
Recommended Thinner
1.06-1.08
1.15-1.17
1.09-1.10
33.7
xylene
Solids by weight %
Viscosity @ 25⁰C (cps)
Part A
Part B
Mixture
Part A
Part B
Mixture
400-500
1750-3250
1100-1200
85.5
100
90.6
Waiting time between coats
Min / 6-10 hours – max / 24 hours
Foot Traffic
12 – 24 hours
Light Traffic
48 hours
Chemical Resistance
72 hours
*Note: Times and data mentioned are based on laboratory conditions. Field results may vary and will be affected by changing ambient conditions, especially changes in temperature and relative humidity.