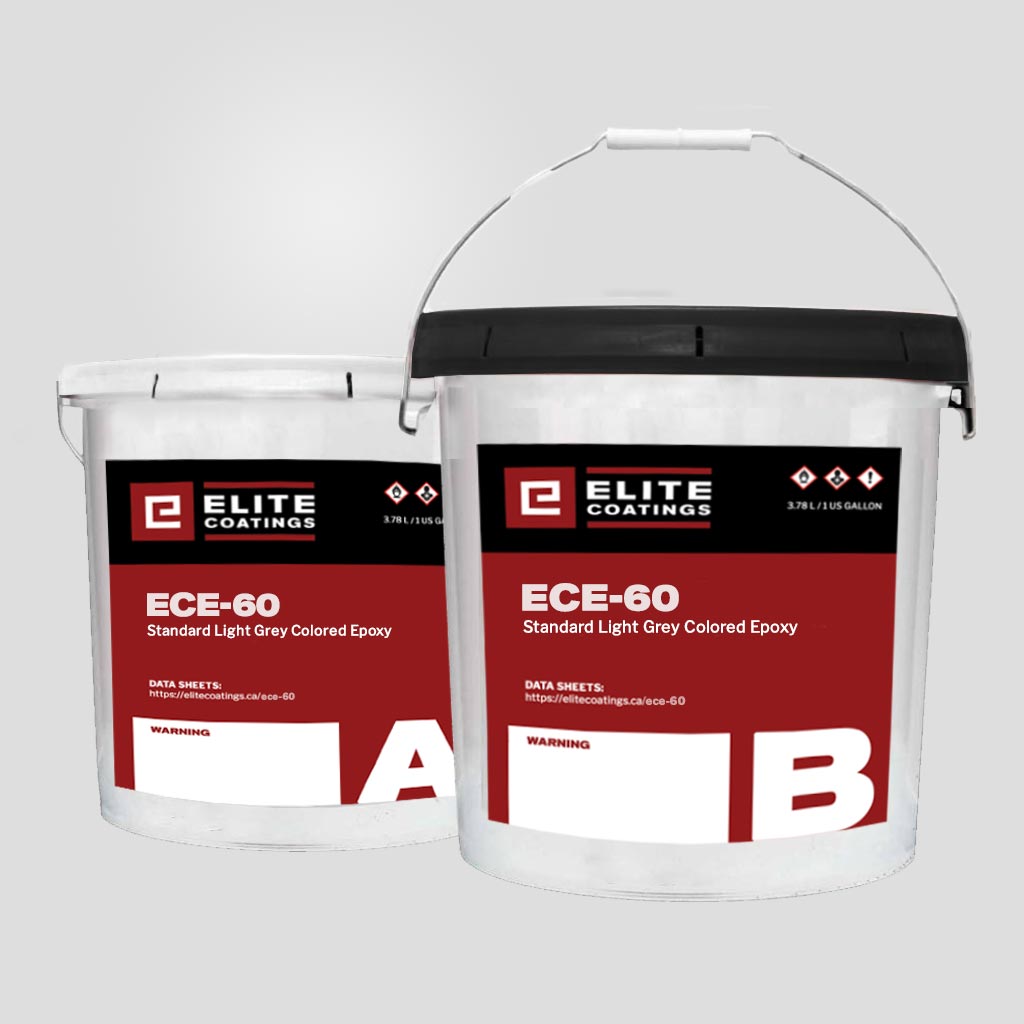 Standard Light Grey Colored Epoxy
ECE-60 is a 100% solid, two component epoxy coating. Monochrome color with opaque and glossy finish, seamless, and a high covering power, it can be used to restore deteriorated floors or protect new floors. ECE-60 provides excellent resistance to abrasion and chemical resistance. ECE-60 meets all kinds of requirements such as durability, performance as well as aesthetics. Seamless plinths are optional. This seamless coating from Elite Coatings offers an unlimited choice of color, and a smooth or non-slip finish can be achieved using very fine to very aggressive aggregates. This system has been approved by the Canadian Food Inspection Agency (CFIA). It meets LEED standards. ECE-60 also meets FDA and USDA requirements.
$210.713 Gallon Kit
Documents
Primary Applications
Aircraft hangers
Assembly areas
Classrooms
Clean rooms
Laboratories
Areas of light manufacturing
Mechanical rooms
Walkways
Advantages
Contains no solvent with a very low VOC content, allowing for interior applications without harmful odors
Impermeable and seamless
Seamless coves can be shaped
Dense surface resistant to bacteria and moisture and easy to clean
Excellent adhesive properties, allowing for application on a wide variety of substrates
May apply several layers on itself with excellent adhesion
Technical Data
Packaging litres / gal us
Color
11.34 / 3
15.9 /4.2
56.7 / 15
Part A
Part B
Mixture
Recommended Thickness
Upon Request
Clear – Amber
Same as Part A
Primer: ECE-60
8 mils / 200 ft² us gal
Shelf Life
Finish Coat: ECE-60
16 mils / 100 ft² us gal
12 months in original unopened factory sealed containers. Keep away from extreme cold, heat, or moisture. Keep out of direct sunlight and away from fire hazards.
Mix Ratio by volume
A : B =  2 : 1
*Please note that the indicated mileage is calculated for flat surfaces. A porous or imperfect surface will require more material in order to cover the same mileage.
ECE-60 complies with the following LEED requirements
IEQ Credit 4.2: Low emitting materials; Paints and coating
SCAQMD Method 304-91
VOC content < 110 g / L
Pot life (150g)
VOC (g/litre)
Density (kg/litre)
50-60 minutes 25°C
41.77
Part A
Part B
Mixture
Solids by weight %
Recommended Thinner
Clear: 1.11-1.13
0.9-1.0
–
100%
xylene
Colored: 1.11-1.15
0.9-1.0
–
Substrate Temperature
10°C
20°C
30°C
Waiting Time / Overcoatability (min / max)
16 / 48
8 / 24
6 / 24
Curing Details
Foot traffic
30 hours
24 hours
16 hours
Light traffic
5 days
3 days
2 days
Full cure and chemical resistance
10 days
7 days
5 days
*Note: Times and data mentioned are based on laboratory conditions. Field results may vary and will be affected by changing ambient conditions, especially changes in temperature and relative humidity.