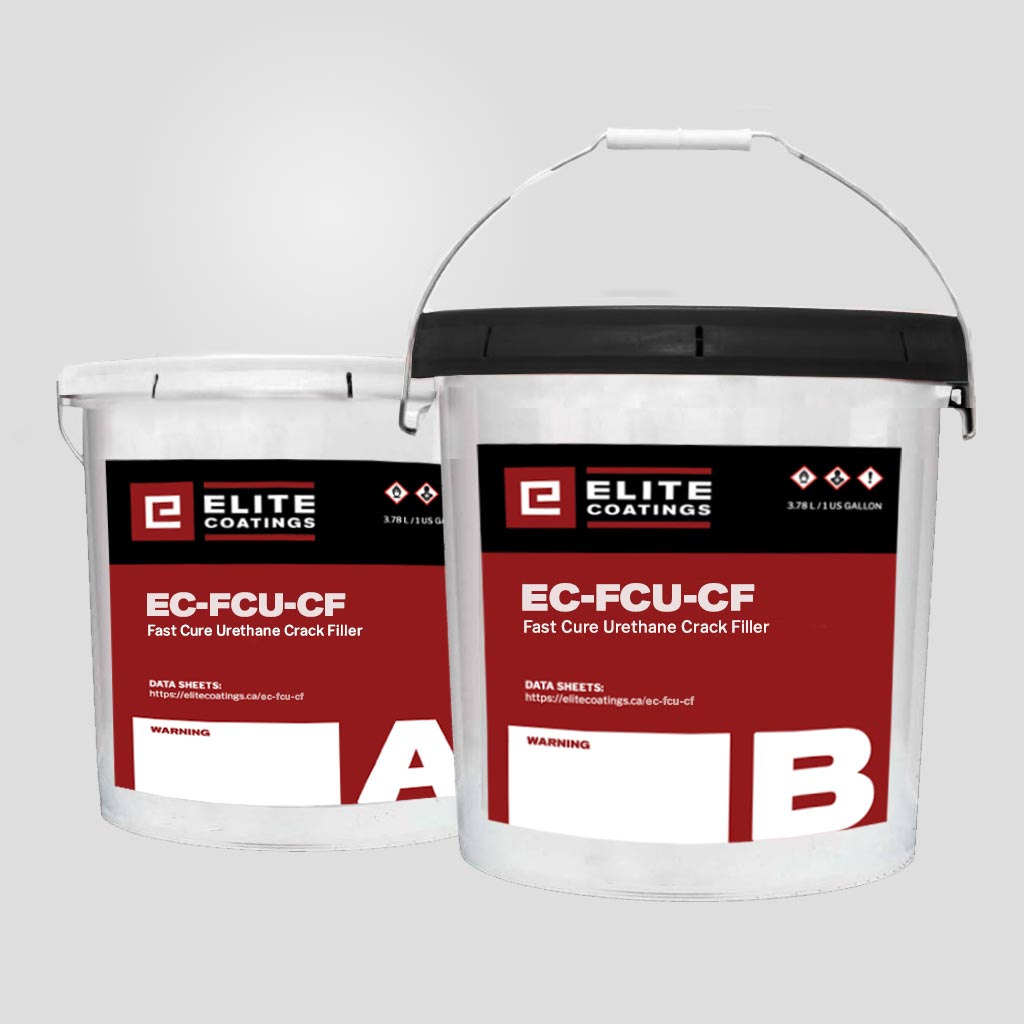 Fast Cure Urethane Crack Filler
EC-FCU-CF is a two parts, high penetration, fast setting, hybrid polyurea for repairing and re-building damaged concrete.  The product is a 1:1 ratio, easy to mix system.  The EC-FCU-CF can be used to set anchor bolts, repair damaged control joints, fill spalling, and rebuild vertical curbing and steps.  Sand or gravel can be added to extend the volume of the material and acts as filler for repairing large spalls, holes and cracks.
$280.902 Gallon Kit
Documents
Primary Applications
Commercial freezer repairs
Aircraft hangar floors
Low temperature equipment
Maintenance facility floors
Industrial shop floors
Car washes or wash bays
Forming/ rebuilding stairs and steps
Leveling and grade matching
Bridge/ street repairs
Concrete polishing and other coating applications
Advantages
Application temperature between -5°C to 38°C
Product cures in 10 minutes @ 22°C with excellent adhesion
Self-leveling and self-priming
Ready to service in 10 to 20 minutes
Easy to mix 1:1 ratio by volume
Highly chemical resistant
Excellent for industrial floor repairs subject to forklift traffic and harsh conditions
Technical Data
Packaging litres / gal us
Color
7.56 / 2
Part A
Part B
Mixture
Mix Ratio by volume
Black
Amber
Grey
A : B = 1 : 1
Shelf Life
Mix Ratio by weight
12 months in original unopened factory sealed containers. Keep away from extreme cold, heat, or moisture. Keep out of direct sunlight and away from fire hazards.
A :  B = 100 : 119
Pot Life (40 g)
Cure Time
Density (kg/litre)
2 – 3 minutes
10 – 15 minutes
Part A
Part B
Mixture
VOC (g/litre)
Recommended Thinner
0.94
1.12
1.03
392
DO NOT DILUTE!
Solids by weight %
Viscosity @ 25ºC (cps)
Part A
Part B
Part A
Part B
Mixture
15-30
15-30
45-50
74-78
60-65
Foot Traffic
10 minutes
Light Traffic
30 minutes
*Note: Times and data mentioned are based on laboratory conditions. Field results may vary and will be affected by changing ambient conditions, especially changes in temperature and relative humidity.